"Mobile phones are not just susceptible to accidental spillages in pubs or cafes," says Dr. Stephen Coulson, CTO of P2i. "Reflecting the increasing role that they play in our lives, this survey also found that on average, phones are taken out in the rain (64%); in the snow (59%) and even into the shower (8%) and sauna (3%) – all posing a risk of the phone being exposed to moisture which can cause long term damage."
This being said, if water damage is such a common problem with smartphones, why not make them waterproof?
The technology is a nano-scale film barrier which has water repelling properties and is applied to the inside of your electronic gadgets. This technology can also be applied to headphones to keep them protected from rain, sweat or snow.
Waterproof digital cameras are being made, so we know the technology works. The good news? Samsung and Apple are looking to include this technology in the n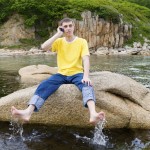 ext wave of smartphones.
Mobile users are starting to demand that their smartphones be made waterproof, and so they should!