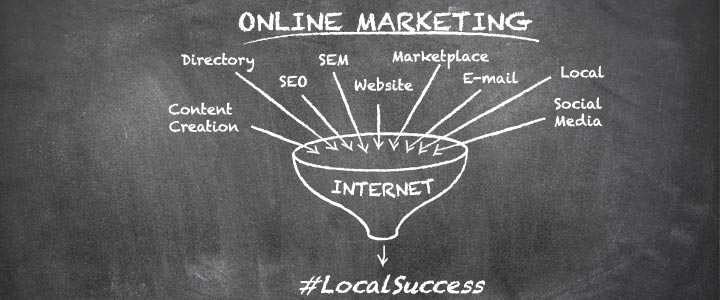 WHAT IS IT?
Online marketing is a term that encompasses all marketing on the web. Also known as internet marketing, digital marketing, or web marketing, online marketing is the act of creating and placing content in front of internet users via a wealth of various websites, platforms, and software systems. To learn more, watch a brief presentation about Online Marketing here.
HOW DOES IT WORK?
Online marketing works by creating effective content that serves the purpose of engaging internet users and potential purchasers into interacting with your business. By putting useful content into the online world that your target market is actually seeking or willing or engage with, you'll generate valuable leads, gain brand recognition, and in turn, increase sales. To find out more, watch this brief presentation here.
WHY IS IT IMPORTANT?
Online marketing should be at the top of the to do list for every business. More and more everyday, potential purchasers of your product or service are using the internet. By being active and giving your business an online presence, you're giving your potential purchasers the ability to find and interact with your content about what you offer and sell. Not only will you be reaching your target market, you'll be putting your business ahead of your competitors.
HOW WILL IT BENEFIT YOUR BUSINESS?
In comparison to other forms of marketing, your business will benefit from online marketing in a few different ways including:
Lower Cost: You won't have to shell out big money for a marketing campaign. Online marketing is scalable and can be customized to meet even the smallest marketing budgets.
Targeted: Instead of interrupting consumers with an advertisement, like traditional marketing – Online Marketing allows you to advertise directly to consumers who are ready to purchase your service or product.
Measurable: Online marketing campaigns are measurable. Analytics tools can tell you exactly how many leads your getting from your marketing strategy, and it's available to you 24/7.
Flexible: Web marketing campaigns are more flexible than traditional forms of marketing. With traditional marketing, once your content is out, it's extremely difficult and often impossible to correct or improve. Online marketing can be changed constantly to find the best marketing strategy for your business, allowing you and your business to adapt to the ever-changing consumer market.
Yes!  We do online marketing…

Create your own #LocalSuccess!
Related Articles: