Our House
Our House in Barrie, Ontario –  a seller of unique gifts, jewellery, and home accessories – is doing a fantastic job with their website provided by www.BarrieDirect.info.
The following highlights some of the many things they have done well and the online success these efforts are achieving:
- Enhanced Pages: Our House opted to Enhance their Start Page Package (with Map and Contact pages). They also Enhanced their Profile, Brands, and Social Pages. By doing so, they have unlocked the full power of each page offering.
- Graphic Design: Our House worked well with their  CityDirect.info Marketing Specialist to communicate a look and feel to our in-house graphic designers. Our designers executed design that reinforced the brand image of Our House – upscale and sophisticated, focused on women who care about classic, long lasting style.
- Domain and Hosting: With the domain name OurHouseBarrie.com, and hosting provided through BarrieDirect.info, Our House is sure to benefit from superior reliability and the ease of dealing with one provider of online marketing solutions.
- Local Directory: Being part of Barrie, Ontario's premier local business directory and CitySite, Our House benefits from having their virtual storefront (their website) and their listings within BarrieDirect.info's local network – which significantly increases qualified visits and improves search engine optimization (SEO).
Brand Page:
http://www.ourhousebarrie.com/brands/
Profile Page:
http://www.ourhousebarrie.com/profile/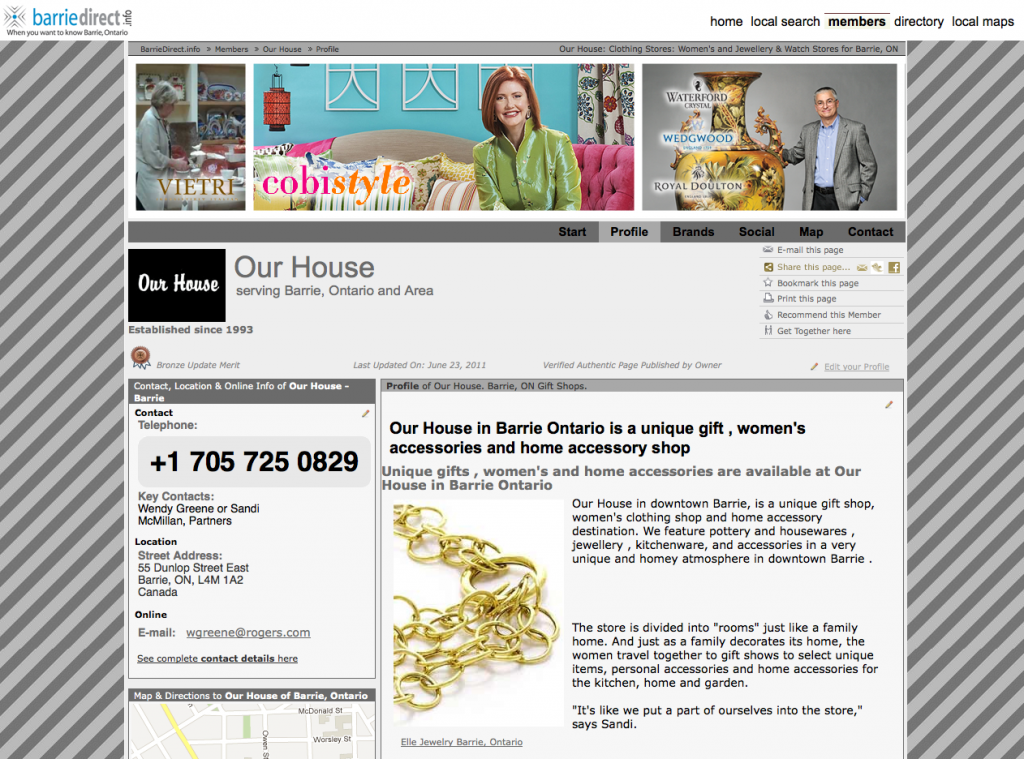 Directory Listing (Enhanced):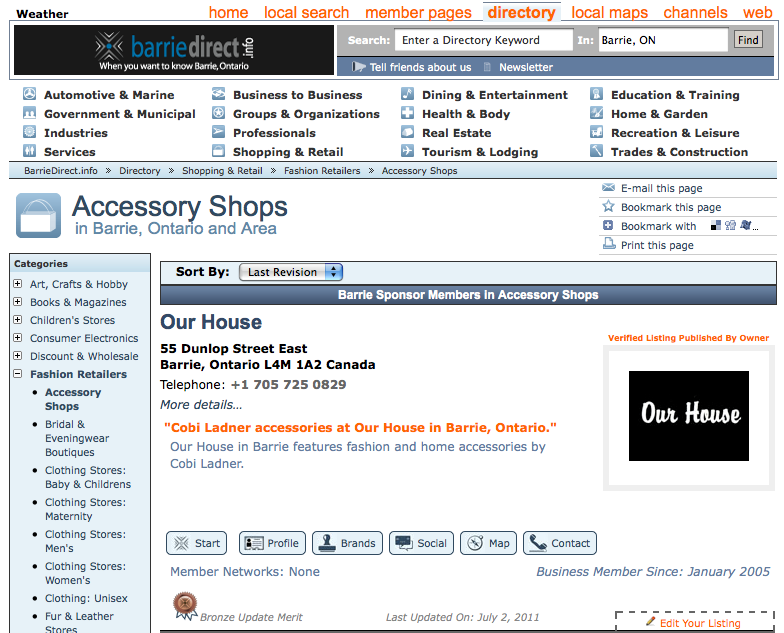 Google Search: "Our House Barrie, Ontario"
#1 result with each page individually itemized

Google Search: "Unique gift Barrie, Ontario"
#1 and #2 result from their Start Page and Profile Page respectively.

– Our House knows how important Google has become to local business. They also understand that such an important aspect of their marketing should be managed by experts if they are to remain competitive. Therefore, Our House uses the expert services of CityDirect.info to not only properly setup and optimize their local account but to keep them optimized as the rules of the game continue to change.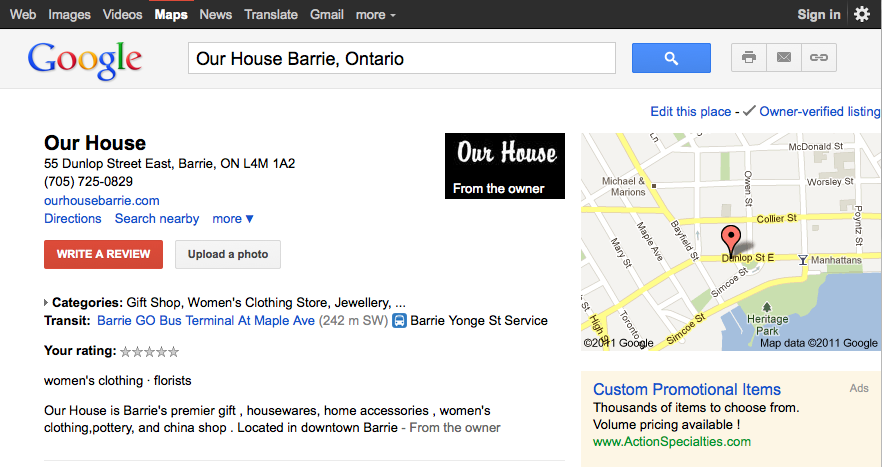 – Our House realizes that the Internet is a powerful tool to spread word of mouth. They know that social networks like Twitter and Facebook are now used as much as search engines. By harnessing a Social Page through BarrieDirect.info they not only are able to quickly and easily share information with their audience, but also save time and effort – because their Social Page allows them to place messages into Facebook, Twitter and LinkedIn all at once.
http://www.ourhousebarrie.com/social/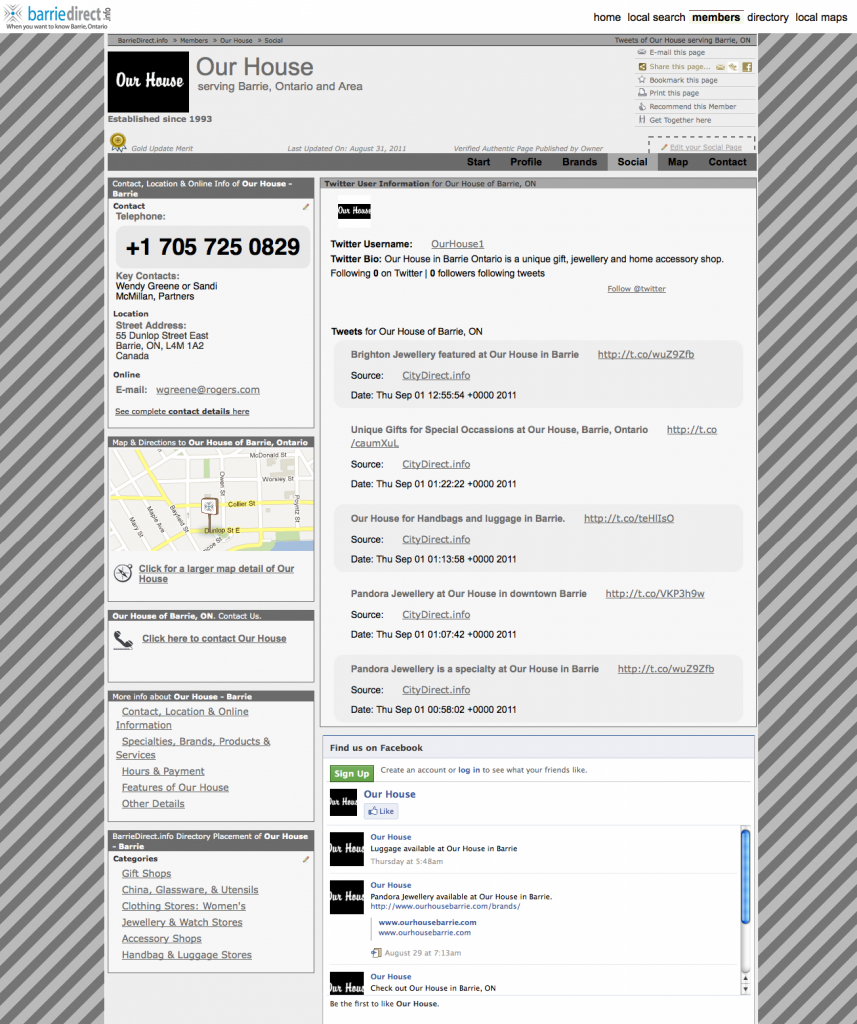 – By working with their CityDirect.info Marketing Specialist and by making good use of www.BarrieDirect.info, Our House not only has built an impressive online presence, but has focused it directly at their target market.