Your Start Page  is the first thing that your potential clients and search engines will read about your business.  That's why we recommend that the Start Page Paragraph is among the first things that you edit.
The easiest way to edit is to log in using the Pencil Icons located to the top right of your Start Page Paragraph.  (Forget how to log in using the pencils? Visit our Using Pencils to Edit blog post.)
The Start Page editing area has a number of different sections: graphics, call to action (both of which are exclusive to the Enhanced Start Page) and start page information.
We want to focus on the Content Grouping section under the heading "Start Page Information".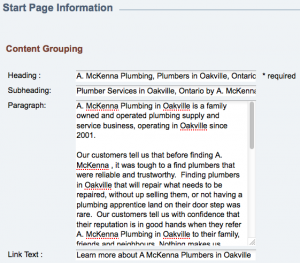 Four components make up the Start Page Paragraph: A heading, subheading, body, and profile page link.  You want to use these to explain to your potential customers the most important aspects of your business.  Think of it as an overview, or the view from 1000 feet in the air.  This is your elevator speech, your chance to attract new customers by telling them exactly what you do, and to answer the questions your  clients might ask, before they even ask.
The Heading, in 125 characters or less, you want to state who you are, what you do, and where you do it. For example, if you are a Plumber named A. McKenna, in Etobicoke, a great headline would be "

A. McKenna Plumbing. Plumbers in Etobicoke, Ontario."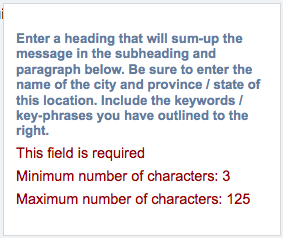 Notice that as soon as you click on any content filed, the SEO assistant will automatically show up to the right and will advise you of what you should write. You'll be given great tips about getting the most out of the text field, the minimum characters required and the maximum characters allowed.
The Subheading should simply elaborate on your services and give a brief synopsis of what the reader should expect to find below. A great subheading for the same plumber would be "For commercial, residential or emergency plumbing call A. McKenna Plumbing in Etobicoke"

The Paragraph is your opportunity to communicate with your potential clients and create very highly searchable content that the search engines will quickly find.  This paragraph is a large contributing factor to your overall search engine placement.  You want to make sure that the most important keywords are included in this paragraph, that it is readable and gives the customers a great overall impression of your business. Here are some examples of well written Start Page Paragraphs:  Dr Chris Schell, Holly Meadows Chiropractic, Honda.
The Profile Page Link is a text based link directly linking to your Profile Page.  You can encourage people to read more about your business.
The Start Page Paragraph Graphic is reserved for the enhanced version of the Start Page.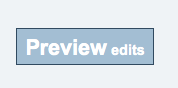 Once you are finished writing your content, scroll down to the very bottom of the page and click on the 'Preview Edits" button, this will take you to a preview of how your content will be displayed on the web.

Once you are satisfied with how the content appears, click "Save and return to account overview."