Unlike the Start Page, the Enhanced Profile Page has ten groupings, where the basic version only has three.  In other words, the enhanced version gives you ten opportunities to describe different aspects of your business, ten opportunities to tell the search engines what you do, and ten opportunities to get found by potential customers.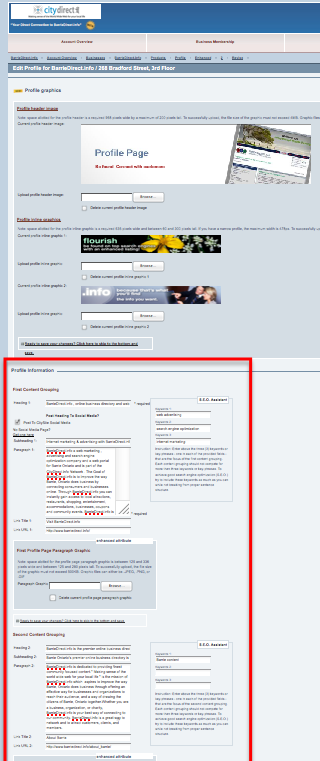 Once you have logged in using the pencil icon on the Profile Page Content Grouping, you will be taken directly to the Profile Page editing area in Centrepointe.  The first section you will see is the Graphic Options which are exclusive to the Enhanced Profile Page.
Scroll down past the graphic options until you arrive at the profile information and First Content Grouping.
Are you wondering what should you be writing in each content grouping?  The first Content Grouping should be another overview of your business that reinforces the important parts of your business.  You should tell people the broad stroke of your business, how long you have been in business, why someone should pick you, what sets you apart from other similar business, what are you good at, the core values of your company and your mission statement.
The second, through the tenth Content Grouping should focus exclusively on one important product, service, or aspect of your business.  It should not include any reference to any other product, service or aspect.  They should also be in order of importance. For example, the second Content Grouping should be exclusively about your most important keyword, and the tenth Content Grouping should be about your ninth most important keyword.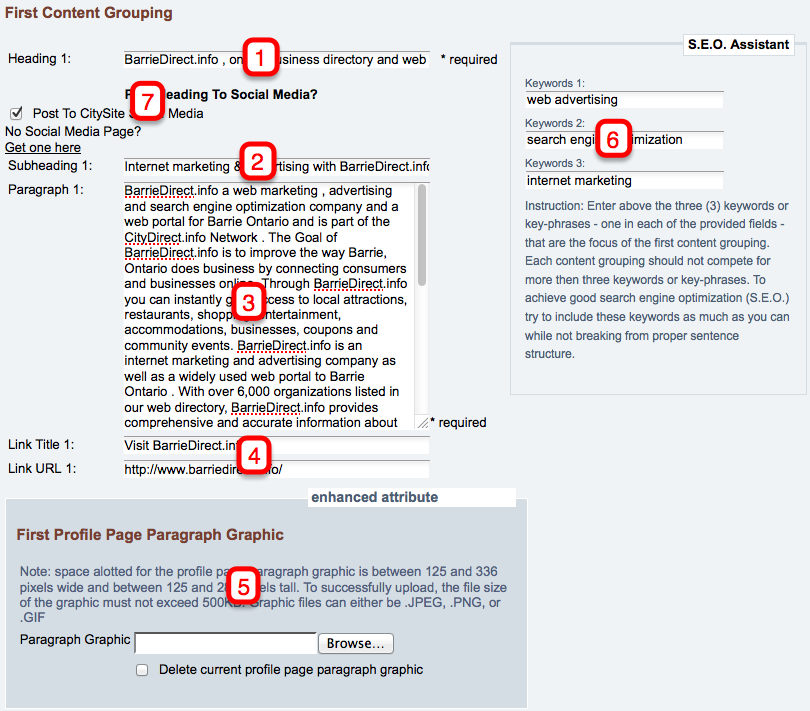 The Content Groupings on the Profile Page are very similar to the Start Page. Refer to the Start Page Content Grouping blog to learn how to write a proper 1. Heading, 2. Sub Heading and 3. Paragraph.
A big difference with the Profile Page Content Grouping is that it comes with the ability to create an 4. external link.  Search engines, like Google, will read a particular paragraph and then follow the associated link.  If they find material that is relevant after the link, it will help with your search result for the keyword in your Content Grouping.  For instance, if your paragraph is all about 'Emergency Veterinary Services' and you link to a page on your web site that is exclusively about 'Emergency Veterinary Service' search engines will consider this a valuable link and you should receive better search results for it.  (Learn more about creating effective External Paragraph Links)
5. Paragraph Graphics are a very powerful way to encourage people to understand what a Content Grouping is about.  Think of how newspapers grab your attention about a particular article by associating a descriptive picture with it.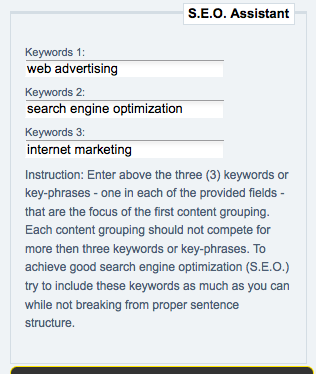 6. The SEO Assistant is a tool that provides helpful hints on how to best use a particular option.  There is one for each content grouping.  For each one, you should include 3 keywords that are closely related to the content grouping.  By including these words in your SEO Assistant, you are clearly telling the search engines what particular keywords the associated paragraph is focused on.  Keyword included in the SEO Assistant will also appear in a keyword list at the bottom of the page, further optimizing those words.

7. Should you wish, you can have the update that you have made to the first Content Grouping, published to the different social media pages for your particular CitySite.  This satellite box remains checked by default, and we encourage you to publish all updates when you alter your first Content Grouping.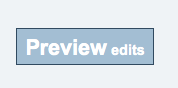 Once you are finished writing your content, scroll down to the very bottom of the page and click on the "Preview Edits" button. This will take you to a preview of how your content will be displayed on the web.

Once you are satisfied with how the content appears, click on "Save and Return to Account Overview."