The Importance of Having a Website
Having a website creates an online version of your store; a store that doesn't have set hours, is never short staffed and always has answers to the questions your customers are asking.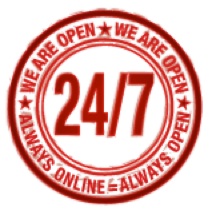 Always Open
A 9 to 5, Monday to Friday lifestyle does not exist in the life of a website, and with a business website your store never really closes. Customers can find information about your business, see what products you sell and what brands you carry anytime they want. You never have to worry about missing a new customer with a strong online presence.
Employee of the Year
Websites are there 24/7, 365 days a year, holidays, weekends and evenings. They never call in sick, take breaks or show up late. A good business website is equivalent to the perfect employee. You should feel confident in sending customers to your website to find the information they need.
FAQs Answered
As a small business owner, you likely spend a lot of your time answering a set of common questions from your customers. A website translates into a customer service representative who never misses a call, and a place where you can direct your customers to find all of the information they need.
With a business website, you now have more time to focus on the next steps in your integrated marketing strategy, because creating a business website is just the beginning.