CityDirect.info is hands down the most cost effective way to get your business found online.  And we want to show you why!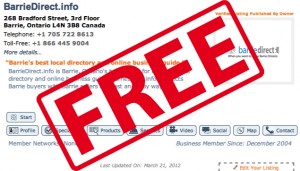 If you're interested in learning how we can help get your business found,  then we'll give you an Enhanced Listing, worth $199.99, for the chance to show you what we can do!
Send us an email to BusinessMembers@CityDirect.info, Call us at 855.200.CITY (2489) or send a carrier pidgeon to 268 Bradford St, Third Floor, Barrie Ontario, L4N 3B8, and one of our Marketing Specialists will be in touch.