To start improving your web presence
It's important to review the core business information found in your Organization Location Details.  This information includes your phone number and address, hours of operation and the payment methods you accept.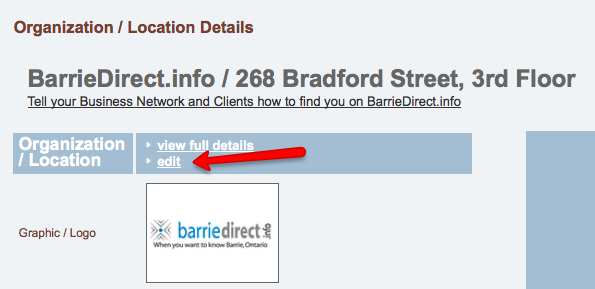 Editing the details of your Organization Location is very easy to do.  Text boxes, satellite buttons and drop down menus make changes fast and simple.  Go through all the options and make sure that each section is filled out completely. Remember that everything you add to your Organization Location Details is searchable information, and can help set you apart from your competition.
Here are some useful hints about specific sections of your Organization Location Details:

1. Branding.  Here you choose how your business name displays online. You can upload a logo, choose your "established since" date and select a color scheme for your CityDirect.info pages.
2. Communication.  Include all of the ways that people can contact you here. A key contact is required,  and by including the different languages spoken will make your business searchable by those languages. Here is an example: "Portuguese Veterinarian in Toronto Ontario."
3. Physical Location.  A correct address in the city which you are established is required, but can be kept private. Including a neighborhood, closest major intersection or transit stop will help potential clients pin point the location of your business. Your GPS coordinates control the map displayed on your pages and are automatically generated when you first sign up.
4. Market Area. You can define the areas that you do business. From your clients point of view, think about how far they would want to travel for their product or service. Try to keep your market area within this distance.
5. Online. Include the email address that you would like clients to use.  Add your domain name and our system will create helpful links through your CityDirect.info pages.  The section below denotes what domain name is being assigned to your Start Page and the registration information for it.
6. Hours of Operation. When is your business open to serve the public?  When are you willing to accept phone calls?  Your hours of operation is basic but critical information. Using drop down lists you can select opening and closing times for each day.  Select the satellite box if you accept phone calls outside of regular business hours and feel free to add in a description of your operational hours if it is easier to describe.
7. Payment. Including the methods of payment that you accept is often over looked information, but is  key that your customers know.  Use the check boxes to include the currencies accepted and discounts you offer.  If you are a non profit organization check that  box to indicate this information.
8. Features. There are a lot of standard features used to inform your potential clients.  Restaurants and hotels have additional features that they can include by selecting check boxes related to their organizations.
9. Specialties, Brands, Products and Services Keywords. Sorted in order of importance, your keywords clearly tell the public and search engines, what your business is all about. Be sure to be inclusive but not repetitive.  eg. Plumbing, Plumbers, Plumber, Commercial Plumber are not considered the same.
10. Additional Information. There is also the option to add extra information for your customers. For instance, manufactures find it helpful to define their capabilities in terms of number of employees or annual sales. This gives their potential clients an idea of what their capacity is.
← Go back to "Improving Web Presence" Proceed to "Edit Start Page Content" →