Adding additional Listings on the CityDirect.info Network is easy!
Once you have signed into Centrepointe you should be looking at your Account Overview.
From your Products Chart you can select 'Create' next to your Basic Listings
From there you can select the section, and based on that section, what Subcategory your Listing will appear in.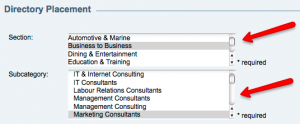 Don't forget to include a headline for all basic listings, and a headline and summary for Enhanced Listings.


Make sure your Listing appears as you would like it to, and then click 'Save.'