Centrepointe is the name we gave to our Content Management System (CMS).  This is where we control everything on the pages we publish, and you can too.
The easiest way to get into your Account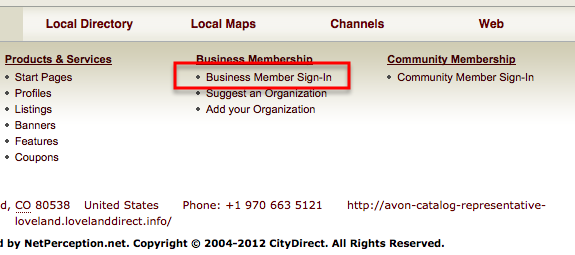 Overview is to get to your Start Page (make sure you bookmark it) and us the "Business Member Sign In" link at the bottom of the page.  To find it, scroll right down to the bottom of your start page, the link is located in the footer to the right hand side, right underneath "Business Membership".
There are a few different other ways to get into your Centrepointe account.  Take your pick from the options below:
Your CitySite homepage will have a "sign-in" link in near the top of the page

Most pages on the CityDirect.info network have a "sign-in" link in the top right hand corner of the page that you can click on to access Centrepointe.

My personal favorite is to bookmark your sign in link, for easy access to log into Centrepointe.
Simply enter in your username (email) and password that you selected when you signed up for your CityDirect.info Business Membership.
Having troubles because you have forgotten your password? Use the password retrieval system on the sign in page.